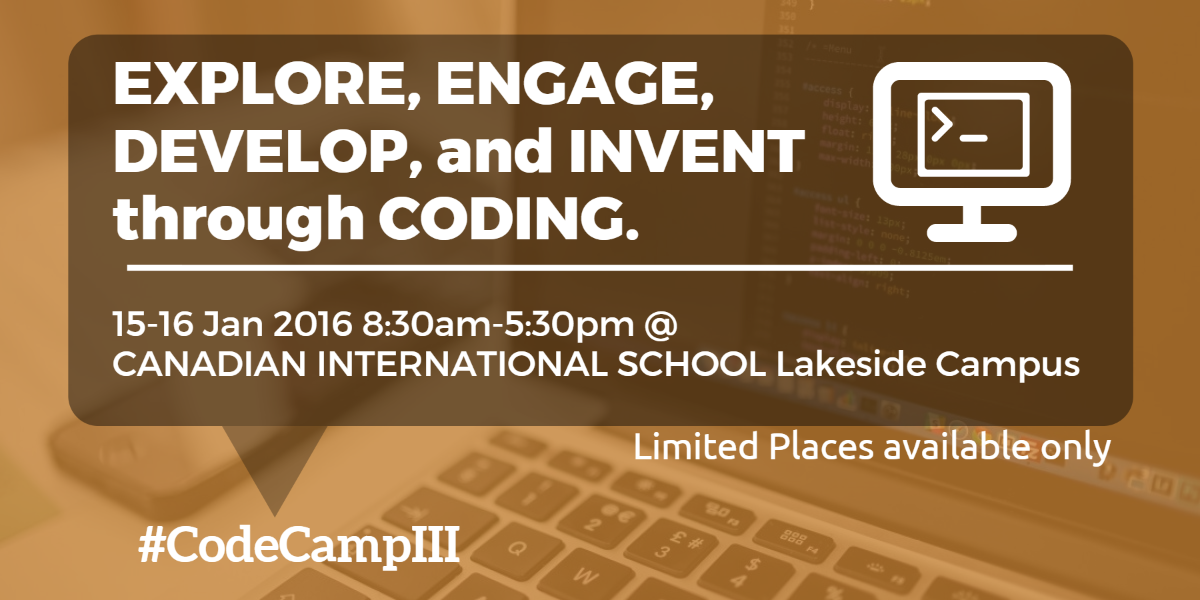 A two-day coding event for youths
The goal is to develop creative and innovative young minds through technology. You need not to be an experienced programmer to participate in this event. A drive to learn and readiness to get creative with codes are definitely a must! Last and most importantly, HAVE FUN CODING!.
FOR WHO?>
9 – 16 years old who wants to get creative with coding!
WORKSHOPS>
Choose ONE of the workshops below to get started.
You can choose up to 2 choices. In the event that your first choice is full, you will be allocated to the workshop of your second choice.

> Robotics & Coding with Makeblock ( Age: 9 to 14 )
> Web Development with HTML5, CSS, and Javascript ( Age: 13 to 16 )
> Game Development with Scratch/ Phyton ( Age: 9 to 16 )
> Apps Development with MIT App Inventor ( Age: 11 to 14 )
> Microcontroller Programming with Arduino ( Age: 9 to 14 )
CAMP DATES>
15- 16 Jan 2016 8:30am – 5:30pm
Students Showcase on 16 Jan 4:00pm – 5:00pm Open to public
Parents and the public are invited to join us at the showcase.
Registration Close on 18 December 2015
LOCATION>
Canadian International School Lakeside Campus
7 Jurong West Street 41, Singapore 646414
FEES>
$150 (Workshop) + $20 (Lunch)
Please indicate if you would like to have lunch provided.
Limited place Available
Bring along your own laptop, charger and stationery.
There will be a free T-shirt and lanyard given.