There are times when people hate getting up just to fetch a cup of water. It is at this moment when they wish they had a robot that would do all the chores for them. As a matter of fact, many scientists are currently researching domestic robots and are looking forward to installing them in normal households in the future. Scientists are currently working on the development of domestic robot, but they are also working on the development of industrial robots as well. To bring about more development to the current robotics field, HYU had held an event where students could learn more about robots.
With 12 high school students from Singapore and 88 students from all over Korea, the 'Asia-Pacific Robofest' was held in ERICA campus from the 19th to the 21st of January. The festival was composed of eight events such as robot games, humanoid, battle robot, five types of robot matches, creating robot, and so on. Chase Chow Jai Jing, who is a senior in West Spring Secondary School, commented, "I participated in the Asia-Pacific Robofest because I am interested in operating a robot. Throughout the intense competition with the Korean students, I was able to broaden my knowledge about robots."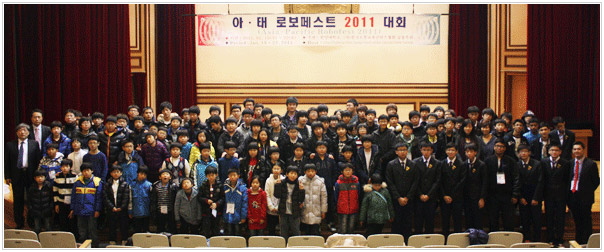 The College of engineering and the Robot Education Contents Association (RECA) had hosted this event to enhance the understanding of robot science for students who wish to become robot scientists. The Asia-Pacific Robofest is a regional competition for students from the Asian and Pacific region, and the winners can enter the 'World Robofest Championship,' which is held in the U.S in every May. The 'World Robofest Championship' aims to promote international exchange and science research for elementary, middle, and high school students.
"The Asia-Pacific Robofest is a steppingstone to popularize robot science. As one of the leading science areas in the future world, I hope this event could provide an opportunity for students to increase their interest and passion towards robot science," said Chang Soo Han, who is a professor in the Major in Mechanical Engineering and the president of RECA, during the closing ceremony. Through the Asia-Pacific Robofest, students were able to envision their dreams of becoming robot scientists and learn more about their area of interest by participating it. The event has proved that HYU is ready to produce future scientists who will become leaders in the international arena.